Dinsdag 7 december 2021
Tweemaal stond de tentoonstelling Belgische meesters op het punt open te gaan voor het publiek, maar beide keren gooide de coronapandemie roet in het eten. Nu is het zover: van 7 december 2021 t/m 28 februari 2022 presenteert Singer Laren een selectie hoogtepunten van Belgische schilderkunst uit het Brusselse Museum van Elsene. De werken van kunstenaars als Emile Claus, James Ensor, Jean Delville, Fernand Khnopff, Rik Wouters, Gustave De Smet, Paul Delvaux en René Magritte zijn een weerspiegeling van de zoektocht naar vernieuwing en vrijheid van expressie in België tussen 1850 en 1950.
Honderd jaar kunstgeschiedenis van onze zuiderburen
De vernieuwde museumzalen van Singer Laren zijn gewijd aan topstukken uit honderd jaar kunstgeschiedenis van onze zuiderburen, onderverdeeld in de stromingen impressionisme, symbolisme, luminisme, fauvisme, expressionisme en surrealisme. Sommige kunstenaars steken klassieke onderwerpen als het landschap en het portret in een nieuw jasje, terwijl anderen mystieke en vervreemdende voorstellingen scheppen vanuit hun fantasie en onderbewustzijn. Wat deze diverse Belgische modernisten met elkaar verbindt, is hun gedeelde streven naar vernieuwing en vrijheid van expressie. "Veel van de kunstwerken, of ze nou behoren tot het symbolisme, expressionisme of surrealisme, zijn uitingen van de fantasie en het onderbewustzijn. Niet gespeend van humor, een zekere voorkeur voor het bizarre en vervreemding." Jan Rudolph de Lorm, museumdirecteur.
Verrassingen, humor en vernieuwing
In de tentoonstelling valt op dat de diverse kunststromingen in de twee buurlanden verschillen kennen. Zo is het Belgisch luminisme van Emile Claus is niet te vergelijken met wat in Nederland als het luminisme wordt beschouwd: heftig kleurgebruik en woeste penseelstreken. Ook de bizarre humor zoals we die kennen in de Belgische kunst, komt in Nederland nauwelijks voor. Naast een enorme variëteit aan stijlen en topstukken van bekende kunstenaars, zijn er ook minder bekende Belgische meesters als Louis Thevenet, Edgard Tytgat en Anto Carte in de tentoonstelling te ontdekken. Kortom, een tentoonstelling vol verrassingen, humor en vernieuwing. 
Lees hier het volledige persbericht.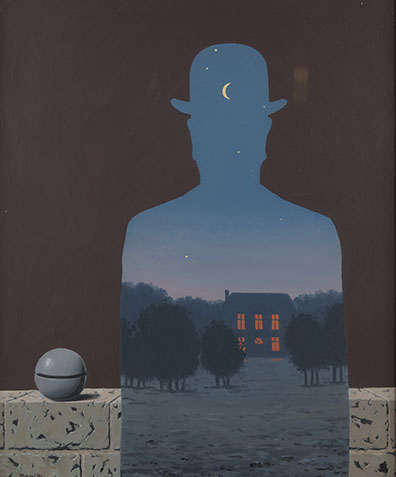 René Magritte, De gelukkige schenker (L'Heureux donateur), 1966, olieverf op doek, 55,5 x 45,5 cm, aankoop van de kunstenaar 1966 © Courtesy Ch. Herscovici