Moedig voorwaarts
Diederik van Vleuten
Is verplaatst naar 3 november 2022
Prijs € 27,50 Supporters/Vriendenloterij € 25,00 (excl. € 3,50 transactiekosten)

Theaterzaal

regulier
Regulier tarief
€ 27,50
Diederik van Vleuten
'Het leven wordt voorwaarts geleefd maar achterwaarts begrepen'. 
Deze wijsheid van filosoof Kierkegaard heeft Diederik boven zijn bureau hangen. Om hem eraan te herinneren dat deze uitdagende tijden erom vragen zijn theatrale visie vol op de toekomst te richten. Of op zijn minst op het heden. Aan het verleden besteedde hij in drie bejubelde soloprogramma's nu wel genoeg aandacht. Nederlands-Indië, de Eerste Wereldoorlog en Winston Churchill zijn geschiedenis.
Vanaf nu gaat hij moedig voorwaarts! Of hij als stand-up historian daarin ook slaagt zal de toekomst uitwijzen. In zijn vierde solo neemt hij minstens anderhalf uur de tijd om het in ieder geval te proberen. Een ding is zeker: aan het eind van de avond zal de meesterverteller achterwaarts begrepen hebben waar zijn huidige aangrijpende verhaal over ging.
Moedig Voorwaarts dus. Reserveer nu, want voor je het weet is het weer verleden tijd.
Zo luidde de tekst die ik ruim een half jaar geleden inleverde bij de theaters. Zo luidt dan ook de omschrijving van Moedig Voorwaarts in de programmaboekjes en op de websites. Maar er kwam wat tussen. Het leven voltrekt zich terwijl we andere plannen maken. Het verleden drong zich toch weer op. En zo is dit programma alsnog een programma geworden waar het rijke familiearchief een onontkoombare rol in speelt. Als vanouds zou je kunnen zeggen. Moedig Voorwaarts gaat mede over de vraag in hoeverre gebeurtenissen die zich afspeelden in het verleden doorwerken in generaties die erna kwamen. Hoe het verleden ons helpt heden en toekomst te omarmen. Moedig Voorwaarts staat voor mooie verhalen, een fijne piano, aangrijpende vertellingen waarbij de humor ons stevig overeind houdt. Ik zie uit naar uw komst.
Diederik van Vleuten
Singer restaurant 
Bij het boeken van deze voorstelling kunt u om 18.00 uur een overheerlijk 3-gangen keuzediner boeken. U bestelt het 3-gangen keuzediner voor € 39,00 incl. koffie/excl. dranken.
De Tiffany Tafel
Gaat u alleen naar een theatervoorstelling en wilt u graag andere mensen ontmoeten? Schuif dan aan bij De Tiffany Tafel: de ontmoetingsplek om samen naar een voorstelling te gaan.
U wordt om 18.00 uur in Villa De Wilde Zwanen verwelkomd door een gastvrouw/heer om daarna samen met andere gasten te genieten van een diner samengesteld door onze chef-kok.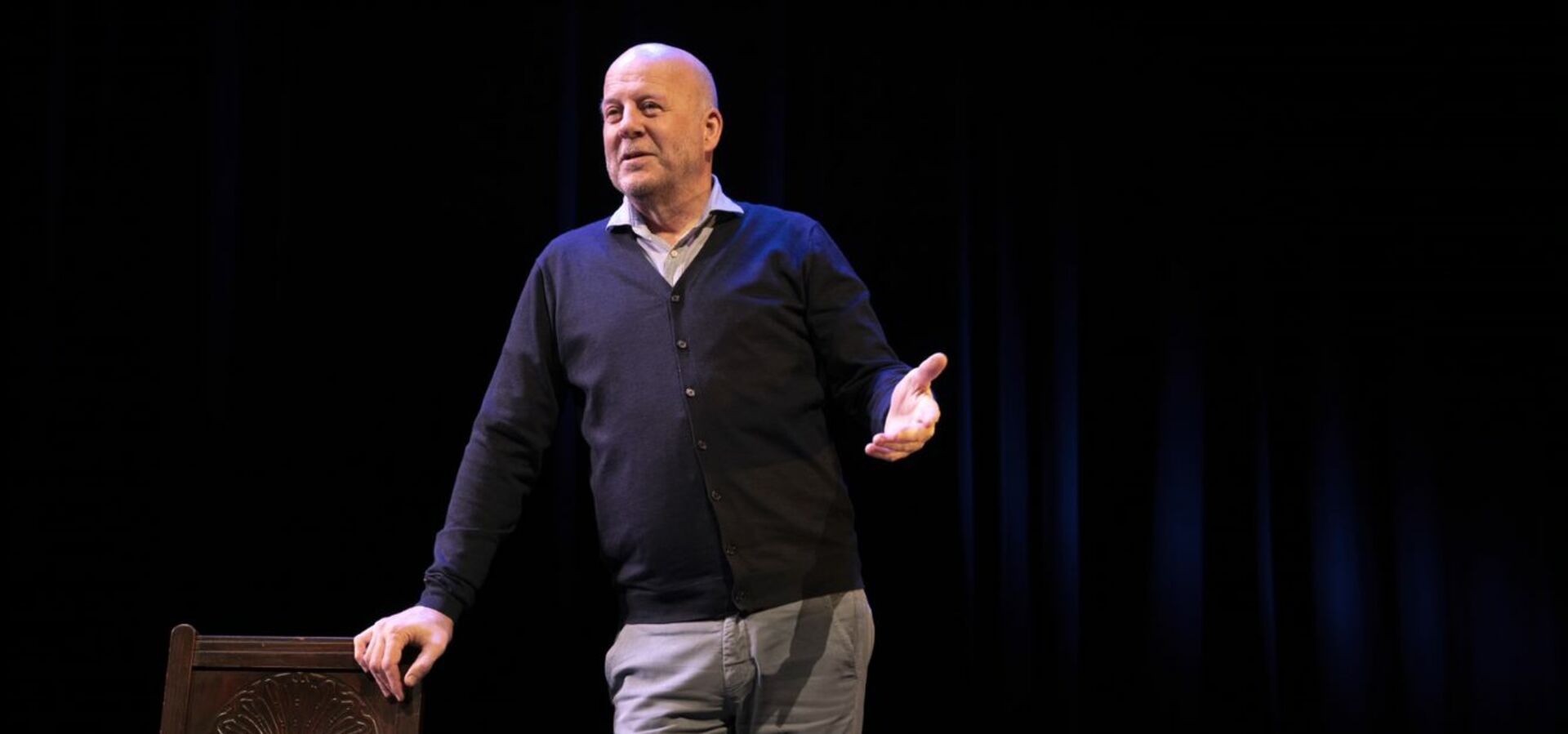 Bob Bronshoff